HENRY KUHN
Drums & Percussion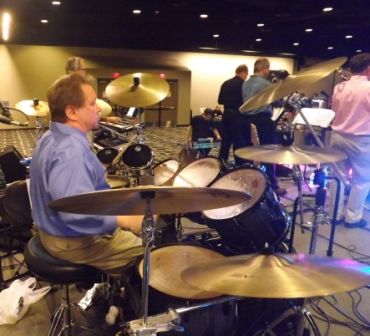 Henry has been playing drums for 42+ years. A graduate of East Jefferson High, he's played in EJ's marching, concert & jazz bands along with Bleu Raeders Drum & Bugle Corps. Henry started live performances with the Crescents, the T-Birds 50's 60's Show band, Sound Check, Mike and the Mixers, Visions and has spotted with several bands around the city. Henry has played everything from Cajun to Rock, 40's to 60's, Jazz and Blues. His prime inspirations were Chicago, Blood Sweat & Tears, Creedence, the Eagles and the Doobie Brothers. Henry hopes to soon play with the New Orleans LE emerald society as part of the pipes and drums. Even though he started his drumming on a snare way back when he was 7, the rest of the band says he's still the same height he was in second grade!



MIKE PARKER
Keyboards, Guitar & Vocals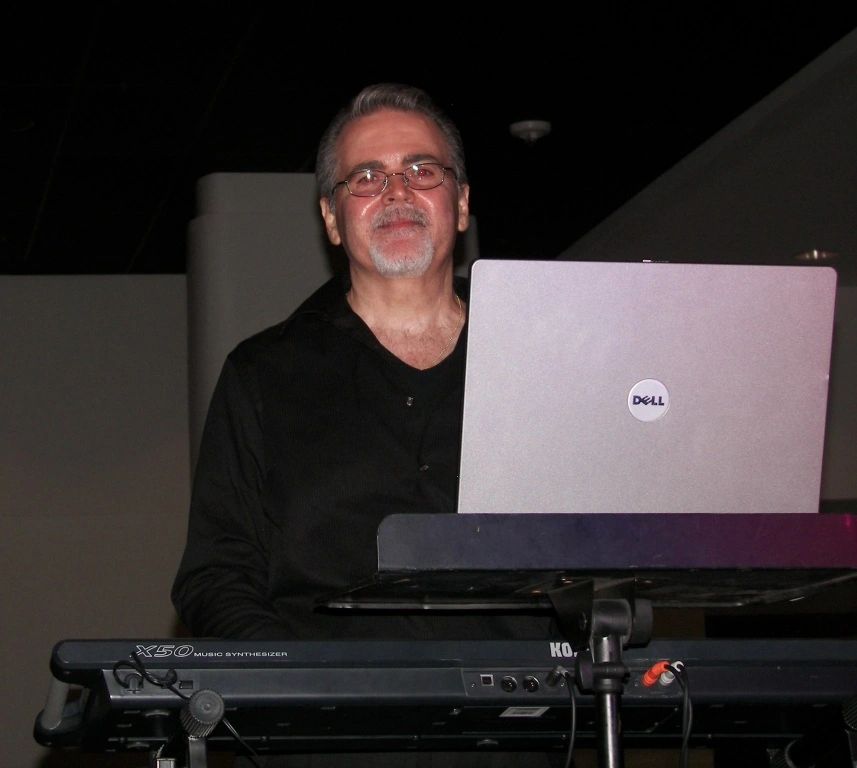 Mike is a graduate of Chalmette High. He has been a musician for 35 years playing keyboards and Guitar with several area bands. Mike was an original member of Cuisine in 83, but had also performed with Nightlife and Louisiana Southern Breeze.





PAUL WEISER

Trumpet, Vocals & Percussion

Paul has been playing Trumpet for 34 years since he was 9 years old. Paul is a graduate of Chalmette High and has played in marching band, jazz bands and Drum & Bugle Corps. He currently reigns as the director of the University of New Orleans basketball pep band "Blue Zoo." Paul has been inspired by such greats as Chuck Mangione, Maynard Ferguson and Herb Alpert. As with Charlie, Paul is also a current horn section member of the local dance band " WEST END " since 1999. We can never get Paul to laugh. He's like one of those Guards at Buckingham Palace. So come up and get him to laugh, especially while he's playing his trumpet.


ANTHONY CATALANO
Trombone, Vocals & Percussion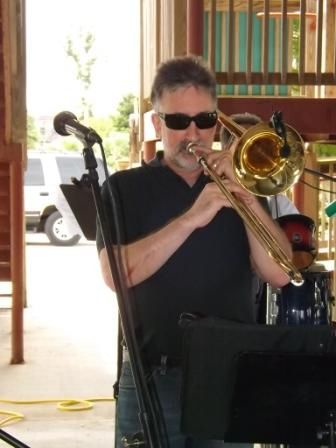 Anthony graduated from East Jefferson High and has been playing trombone ever since. He enjoys playing everything from jazz and rock to big band swing. In his teenage years, Anthony took instruction from various New Orleans Symphony trombone players, but while still in high school, got his second trombone from "Papa Jack Assunto" with the "Dukes of Dixieland." Anthony has had the privilege of playing with jazz bands, quartets, marching bands, wind ensembles, show bands, orchestras, and rock bands since college and to date. Anthony, like Paul and Charlie, is a horn section member of the band "WEST END." His musical influences are Jimmy Pankow, Erbie Green, Bill Watrous, Tommy Dorsey, J.J. Johnson and many others. Anthony enjoys listening to almost any group as long as it has a horn section. Although his all time favorite is Chicago followed closely by Blood,Sweat & Tears, Earth, Wind & Fire, Chase andTower of Power. He loves being able to harmonize with the back ground vocals of Cuisine and they allow him to do just that. Anthony is the Funny guy of the group… We think he should go out on the " Blue Collar Trombone Player's Comedy Tour," but he said he'll stick to playing music.


JIMMY LEABER
Lead Vocals & Percussion

Jimmy Graduated from Rummel High School in 1980 – (but we don't hold that against him). He attended the University of New Orleans (where he says he needed a place to sleep during the day). Jimmy has been performing for 29+ years in cover bands with the likes of the T-Birds 50's -60's show band, Cuisine, Pontchartrain, Dual Exhaust 50's -60's show band and Kan-dee-side and the occasional gig with the band Heart and Soul.
Jimmy particularly enjoys the Horn bands he performed with as he loves the musical styles of bands like Chicago, Blood,Sweat & Tears and Tower of Power.
Another wise guy with the comedy, Jimmy likes doing voices and singing songs as close to the original artist's voice. We actually think it's the seven little voices in his head to go with the seven other personalities he has that makes him unique. We haven't gotten him to sing like Aretha Franklin or Carole King yet, but he does a mean Archie and Edith with the "All in the Family" theme song



DARRYL BARNES
Bass Guitar & Vocals

Darryl Barnes has been a professional musician and music educator in the New Orleans Area for 30+ years. He is a frequent performer at the New Orleans Jazz and Heritage Festival and he has performed with many local jazz and rock bands in the New Orleans area over the years. His trombone has been heard on television programs such as "This Old House" and various TV commercials and movies in the United States. He has performed on tours in Europe and Martinique. He has played bass, trombone, and tuba in the past with artists such as Pete Fountain, Ronnie Cole, Danny Barker, Jimmy Elledge, John Chaffe and Frankie Brent. He has been a long time member of the New Orleans original "Last Straws", "The New Orleans Jazz Band", "Charlie's Riverside Jazz Band and Orchestra", and perennially substitutes in many bands around the city.


KEITH "JULIO" JUNEAU
Percussion / Vocals


Keith "Julio" Juneau has been playing for 30 plus years. Started at John Curtis High School on the drums but was forced to play trombone. He continued his education at Rummel High school where he developed music writing and producing skills, studied extensively the history of percussion instruments, was in the marching band, jazz band as well as many church groups. He played with many local greats in the French Quarter as well as the Jazz and Heritage Festival in 1976.
Keith is well versed in many different instruments including trombone, trumpet, bass guitar, piano, xylophone, drums (his favorite!) and nearly all percussion instruments.
Spent years teaching students fundamentals of percussion and music reading and is fluent in Classic Rock, 60's, 70's, 80's, New Orleans music and today's country.
He brings to Cuisine his experience from other local groups such as The Serenades, Fibes, Blind Alley, Dual Exhaust just to name a few and his own band, 2 Faced Kitty until Katrina hit.
Influenced by such groups and drummers as Rolling Stones, Doobie brothers (loves to play both parts of both drummers), Fleetwood Mac, Chicago, Earth Wind and Fire, Beatles, Keith Moon, Buddy Rich, Tito Puente, John Bonham and the list goes on!
Some of Keith's favorite people he has played with have been Wes Raymond, Perin Isaac, Hector (Tito) Valle, Kenny Hegaland and now CUISINE!


RORY DUFFOUR
Sax / Reeds / Vocals

Rory has been playing sax and clarinet in and around New Orleans since the 1970's. He's played regularly with the Bayou Liberty Jazz Band in Slidell, The Last Straws in New Orleans, and has worked in theater and classical music as well. He's played Jazz Fest, French Quarter Fest, and Satchmo Fest. His roots are in New Orleans jazz, but grew up in the classic rock era, and is re-discovering his youth.
KEITH DELLSPERGER
Sound / Percussion
BIO COMING SOON


BOB KEMP
Lead Guitar & Vocals
BIO COMING SOON